Like a roaring lion
Posted May 12, 2014 by Nanda Bezerra in
Blog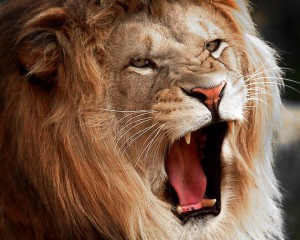 A friend of mine sent me the message below and I would like to share it with you. It is so graphic that you can actually picture it so much better!
Chrissy Boodram, thanks for sharing!
In the light of our event on Friday, I just wanted to share this with you.
We've heard this verse a million times and you even spoke about it in the assistants' meeting yesterday but there was a word in there that I stopped to think about. "Be sober, be vigilant because your adversary the devil walks around like a roaring lion, seeking whom he may devour."
It doesn't say that the devil walks around like a lion, but like a ROARING lion. So I wondered why lions roar. I looked it up and here's why: 
Lions roar to proclaim where their territory is. Roaring is also one of their strategies for catching prey—they creep up on their prey and when they are close enough, they will let out a roar that confuses the animal and strikes fear into it. The prey cannot think or react correctly out of fear and so is trapped and caught by the lion.
The devil wants us to be his territory, so he is always close, and he "roars" in order to confuse us or strike fear into us. If we don't think and react in faith, we could be trapped and get caught out.