Universal Day for Women – Flávia Barcelos
Posted April 4, 2014 by Nanda Bezerra in
Videos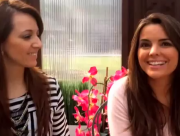 Hello darlings, here we are again with one more special video in preparation for the Universal Day for Women.
Let's share this unique event when men will learn to value women and women will learn to value themselves .
You, that are watching me now, will be my guest on the 19th of April at the Rainbow Theatre 3pm :).
See you on Monday 😉