PMS?
Posted July 1, 2013 by Helena Marques in
Health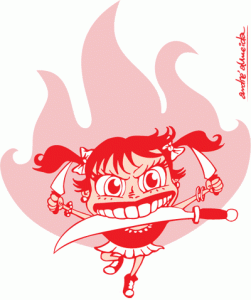 Hi friends, shall we talk about PMS today? A lot could be said in regards to this, but let us take a quick look at what this is all about (I know that many of you already know, but we need to talk about this).
The main symptoms are:
– Moodiness
– Irritability
– Anger
– Wanting to scream
– Anguish
– Tiredness
– Insomnia
– Depression and many others…
Our hormones go through a lot of changes during a specific time of the month and it is also necessary that we make a few changes too so we may feel better. A balanced diet, little sugar and lots of vitamins are the way to go. There are also a few basic rules one should observe:
Eat more often and in small quantities, instead of few larger ones throughout the day.
Limit your calorie intake to 1,500-2,000 calories a day.
Eat more fruit and veg.
Avoid coffee and other related drinks because they make PMS worse.
Reduce your salt intake. This will help you feel less bloated; therefore, the physical symptoms such as pain in your legs, breasts and tummy will decrease.
Avoid sweets. The ingestion of sugar causes water and salt retention. Some women may feel better after eating chocolates and other sweets—they feel less depressed or anxious; however, this feeling is only temporary.
Eat diuretic food such as strawberries, watermelon, asparagus, parsley, watercress and artichoke, as these help your body eliminate water.
I would just like to clarify that PMS is a temporarily sensibility that occurs for a few days; it is not an illness. Doctors say it CAN be controlled. (Unless you already have any psychological or other health problems; however, PMS does not cause these problems. What happens is that PMS enhances any existing illness.)
Well, I don't know if this happens to you but I do struggle with PMS and, many times during those days, I do put the blame on it…
And how many others mistreat their husbands, colleagues, children, friends, and even stop taking care of themselves because of PMS?  How many of us are known for being the "nervous" or the "sensitive" one? Friends, it's time we changed this, and those who suffer from it know very well what I am talking about…
Maybe, the symptoms listed here are part of your daily life, and I ask you: Can we really blame PMS?
How many opportunities have you lost in life as a result of your temper?
If like me, you are not satisfied with this situation and you will put an end to it, then join me, and millions of other women in this Campaign of Israel. My name will change. What about yours?
Needless to say that in order for us to take action, we must recognise we have a problem, to humble ourselves and take action…
Let's go in this faith together? Whoever doesn't will stay behind!
Soon I will be sharing my testimony with you!!
Kisses and see you all next week. 🙂