Universal Day for Women – Flavia Borges
Posted April 3, 2014 by Nanda Bezerra in
Videos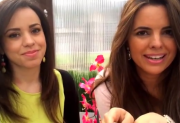 Hi Girls, in today's video you will get to know my friend Flavia. She had a bad car accident when she was a child which brought her serious problems physically and emotionally.
Darlings, check it out, and take the opportunity to share and make comments saying how this series of videos has been helping you 🙂
See you tomorrow with another special video.